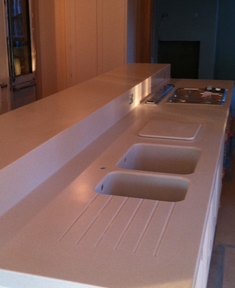 We're a team of tradesmen with a pride for the jobs we do. Fitting a kitchen well takes team work, experience and care. Its very much in our interests to do a good job every time as its you we rely on to recommend us to others. In the main it is thanks to the kind recommendations of our customers that weve been growing nicely as a business.
Extensions
New builds
Loft & Basement conversions
Bathrooms
Kitchens
We organise and carry out large and small kitchen projects, from simply renewing your old kitchen sink to planning, installation, gas and electrical work, and wall and floor tiling of your new kitchen.
Our aim is to leave you completely satisfied with high quality work at a reasonable price carried out by experienced tradesmen certified to carry out the works required.
What our customers say:
Mark (and team) carried out work on our house in October 2012. Initially we had one dreadful bathroom which was the shape of a triangle and a completely unusable third bedroom (also in a triangle shape). When we contacted Mark he replied within one day and came to see us the same week. His advice was excellent and he was very friendly and made us feel completely at ease. We were very pleased with the quote to remove a chimney breast, completely renovate the bathroom, re-build the stud walls between the bathroom and third bedroom, and re-plaster everywhere. Mark was also the only builder we spoke to who got back to us promptly and actually followed up to ensure he could do the work at a time we were happy with.

The work was completed in good time. We left the guys to it as we had to work; so they had a spare key. The were very clean and tidy, brought their own equipment, and dust sheets, etc. and they were very respectful of our belongings. The guys worked very long hours (this included a weekend and very late one evening to ensure we had a toilet) so we cannot fault their commitment to their work.

We cannot be happier with the work Mark and his team have done. We now have a fantastic bathroom and a study and all the fixtures and fittings (chosen by Mark from a couple of pictures) are excellent quality. Family and friends cannot believe the change in the rooms and they also can't believe how little it cost us (based on the quality of the work completed). Since moving into our house 18 months ago we have had a lot of work done but this is the one thing which we are most pleased with and which has completely transformed the house. One thing which really stands out about Mark is that he always seems to go the extra mile, for example when we mentioned a leak in our roof he contacted his roofer for us (who came round the same day) and he is also putting us in touch with a decorator. We would recommend him in an instant and hope he can do more work for us in the future. Catherine & Naresh